Antler Chandeliers: Deer & Elk Antlers
Explore our diverse range of antler chandeliers, the epitome of rustic elegance. Whether you are seeking a
real antler chandelier
, or a
faux antler chandelier
, we have something to grace your space. Our collection also includes exquisite white and black antler chandeliers, offering a contemporary twist to this classic decor piece. With various antler chandeliers for sale, from small to grand, discover the perfect piece to illuminate your home with a warm, natural glow. Venture through our selection and find an antler chandelier that resonates with your aesthetic and lifestyle.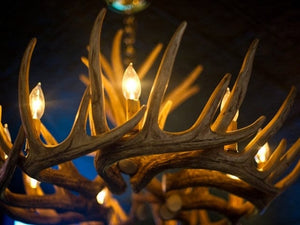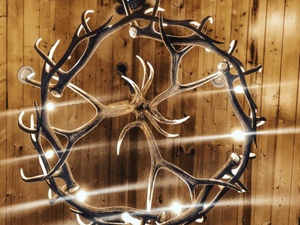 Featured Deer Antler Chandeliers
Step into a world where nature meets elegance with our collection of Deer Antler Chandeliers. Whether you prefer the authentic charm of real Mule deer antlers or Whitetail deer antlers or the eco-friendly choice of faux antler designs, we have something to cater to your taste. From compact designs perfect for cozy corners to grand chandeliers that become the focal point of your room, our variety ensures you find the right fit.
Featured Elk Antler Chandeliers
Indulge in the rugged beauty of our Elk Antler Chandeliers, available in both genuine and faux antler designs. The real elk antlers used are naturally shed, embodying the wild spirit of the outdoors, while our faux elk antlers provide an alternative, capturing nature's essence. Our collection spans from modest designs to grand statement pieces suitable for various spaces. Each Elk Antler Chandelier is a masterpiece, blending rustic allure with modern elegance. Browse through our selection and find the Elk Antler Chandelier that illuminates your space and tells a story of nature's artistry.
★★★★★

Love love love this!!! It is gorgeous in my Colorado Mountain Home!!

Linda M.

Colorado
★★★★★

This piece is absolutely stunning! The whole experience of ordering and dealing with this company in the purchase of this chandelier was just fantastic.

Ted G.

Wisconsin
★★★★★

We looked at several antler chandeliers before we made our purchase. The most realistic faux antlers for the money. Very pleased with our purchase.

Duane W

Montana
Antler Lighting FAQs
What are the differences between antler types?
Mule deer antlers are the most common type of antlers you'll see and are typically brown in color. They're more elongated and have a gentler curve than whitetail deer antlers, which have a sharper curve and are lighter in color. Elk antlers are a brownish red and usually much longer and straighter than both deer antler types we use. Moose antlers are very distinct due to their "webbed" or flat appearance and dark brown color, primarily used in larger light fixtures.
How should you hang an antler chandelier based on room height?
When considering the height at which to hang an antler chandelier, it's essential to account for the room's ceiling height. As a general guideline, for every foot of ceiling height, the chandelier should measure between 2.5 to 3 inches in height. This ensures that the chandelier complements the room's proportions and aesthetics effectively.