Furniture
Discover the charm of rustic living with our cabin-themed furniture collection. Handcrafted in the USA, each piece is a blend of comfort, quality, and timeless rustic appeal. Perfect for every room, our extensive range ensures you'll find the right piece to bring the serene, woodland ambiance into your home or project. With exceptional craftsmanship and a wide array of options, explore our collection and let the tranquility of nature transform your space.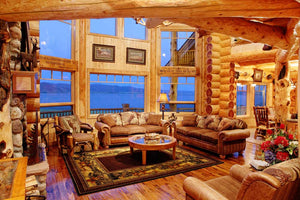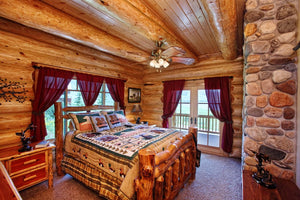 Featured Indoor Furniture
Step into our curated collection of indoor furniture, where each piece is a tribute to rustic craftsmanship. Our Dining range invites warm conversations over hearty meals, while the Bedroom assortment ensures restful nights in a cozy ambiance. Transform your Home Office into a serene workspace or your Living Room into a snug retreat for leisurely evenings. Even your Bathroom can exude rustic charm with our carefully selected pieces. Meticulously handcrafted, each item elevates the aesthetics and promises durability. Explore and find the perfect pieces that resonate with the comforting allure of cabin living.
Featured Outdoor Furniture
Venture outdoors with our enchanting Outdoor Furniture collection, designed to extend the rustic charm beyond the four walls. Enjoy alfresco dining with our Outdoor Dining sets, and illuminate the evening ambiance with our rustic Outdoor Lighting options. Browse through a variety of Outdoor Accessories to add the finishing touches to your outdoor
haven. Every piece is crafted for durability while encapsulating the serene, rustic aesthetic perfect for open-air retreats. Explore our outdoor range and create your own tranquil escape amidst nature.
★★★★★

Rustic and beautiful! We love our new cedar headboard with the vintage stain! It really blends with our rustic themed bedroom furniture!

Katherine M.

Texas
★★★★★

We were searching for a queen hickory headboard to match a set of hickorybunkbeds that we've had for years. This headboard worked perfectly and the Cabin Place team was great to work with.

Lynn U.

Colorado
★★★★★

This piece is absolutely stunning! The whole experience of ordering and dealing with this company in the purchase of this chandelier was just fantastic.

Ted G.

Wisconsin
Furniture FAQs
What is rustic design?
Rustic design is a style that's natural, aged, organic, and maybe even a little weathered. It's characterized by rugged, natural beauty. Common materials used in rustic furniture include raw wood, stone, and metals.
How can I make my house look like a cabin?
To decorate your home to feel like a cozy cabin, use a lot of wood (both for furniture and paneling), incorporate natural stone (like for fireplaces), use warm lighting, add rustic decor pieces, and ensure the color scheme is warm and earthy. Incorporate elements like faux fur throws, leather accents, and nature-inspired decor to complete the look.
Enhance Your Space
Discover a myriad of accents and furnishings that add the perfect finishing touches to your rustic haven. Whether it's a vintage-inspired lamp that casts a warm glow or a handcrafted wooden shelf that showcases your cherished memories, each item is more than just a functional addition - it's a reflection of your personal style. Venture through our curated collection and find those unique pieces that resonate with the rustic charm of cabin living, elevating your space from a house to a comforting home.